A town of 30,000 people and a history dating back the Neolithic. Assisi is a world-renowned town.
It has been under Roman, Byzantine, Lombard rule as well as a free city. Between 1181 and 1182, it was the birthplace of Francis – son of Pietro di Bernardone and Madonna Pica – the future saint who, with his deeds, left his mark on the area and on humanity.
Sacked by Piccinino in 1442, it was divided into noble factions between the so-called upper part and lower part and in the 6th century passed under the rule of the Papal States.
Today the town is not just a centre of Christianity, but represents an important crossroads for religious ecumenism. The Basilica of St. Francis has become a papal see.
St. Francis' Wood (Bosco di San Francesco) is the last stop on the route of the Olive Belt Trails.
Assisi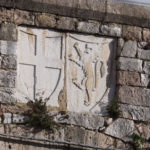 Arco del Seminario or Portella di Panzo
Arco del Seminario or Portella di Panzo This was the medieval name given to the gate that had been opened in the walls of the Roman city. From here, before the construction of the Basilica of St. Francis, one would exit the town and be
Leggi di più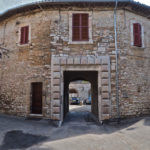 Amphitheatre
AMPHITHEATRE Built in the borough of Porta Perlici, outside the Roman city walls of Assisi, little remains of the old structure: an arch of travertine wedges. Dating back to the first half of the 1st century AD, it included two rows of cement steps, part
Leggi di più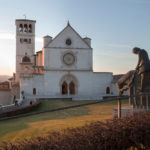 Papal Basilica of Saint Francis And Sacred Convent
Papal Basilica of Saint Francis And Sacred Convent The first stone of the Basilica was laid on the 17th of July 1228 under Pope Gregory IX, the day after St. Francis was canonised just two years after his death. The works started under the direction
Leggi di più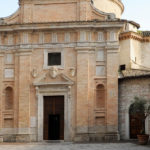 New Church of Assisi
New Church of Assisi Erected in 1615 on the remains of a building thought to be the paternal house of St. Francis by order of Philip III, King of Spain. The layout of the building follows the rules of Baroque architecture. The brickwork facade is
Leggi di più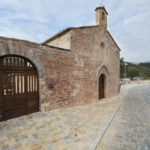 Church of The Holy Cross
Church of The Holy Cross Built in Gothic-Romanesque style around the 13th century on the site of a monastery. It has a single nave with diaphragm arches. The church was modified in the 17th century following the collapse of the apsidal wall. There is a
Leggi di più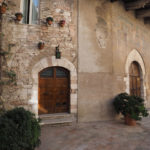 The Oratory of the Pilgrims
The Oratory of the Pilgrims The Oratory of the Pilgrims was built in 1457 next a hospital. It was another place where pilgrims could stop and pray between the two large Franciscan basilicas of Assisi, St. Francis and St. Clare, which showed the gradual increase
Leggi di più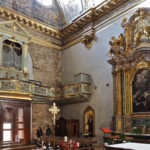 Church of Santa Maria Maggiore sopra Minerva
Church of Santa Maria Maggiore sopra Minerva In the Middle Ages, Benedictine monks turned the Temple of Minerva into a Christian church and dedicated it to St. Donatus. In 1212, they sold it to the Municipality of Assisi, which used it as the town hall
Leggi di più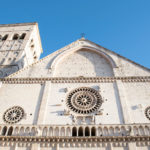 Cathedral of Saint Rufinus
Cathedral of Saint Rufinus The cathedral of Saint Rufinus is the main Catholic place of worship in the town of Assisi. In the 8th century, the remains of the patron saint were moved from the cemetery outside Assisi to the small church known as parva
Leggi di più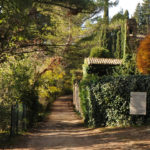 Church of Sant'Angelo in Panzo
Church of Sant'Angelo in Panzo It was built around the 10th century on the ruins of a Roman settlement. During its long existence, which is part of the historical and religious heritage of Assisi, it has been a convent, an abandoned religious retreat, a noble
Leggi di più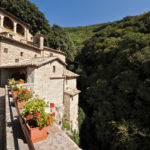 Eremo delle Carceri
Eremo delle Carceri In 1215, the Benedictines donated this place to St. Francis so that he would 'imprison himself' (from the Latin word "carceres") in prayer in a solitary, isolated and secluded place. Eight hundred years later, this is still one of the symbols of
Leggi di più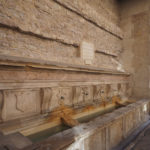 The Oliviera Spring
The Oliviera Spring The Oliviera Spring is attributed by some to Galeazzo Alessi. It was built by order of Olivero Lodovici in 1570. "Penalty of a scudo and expropriation of clothes for those who wash them in this spring": the admonition is engraved on the
Leggi di più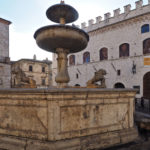 Fountain in the Square
Fountain in the Square A fountain with three lions alluding to the three districts of the town, which shows the regular symmetry in the shape of the basin with nine sides (a multiple of three). At the centre is the basin held up by a
Leggi di più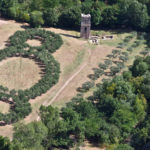 The Third Paradise by Pistoletto
The Third Paradise By Pistoletto An olive grove unique in the world with a surface area of ​​90 x 35 metres. A design with three circles recalling the infinity sign and consisting of two rows of olive trees, with a steel rod at the centre
Leggi di più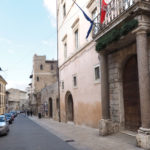 Palazzo Giacobetti-Vallemani
Palazzo Giacobetti-Vallemani The first project for the building was commissioned by the Vigilanti family in the first half of the 17th century to the painter and architect Giacomo Giorgetti. Between 1648 and 1655, the building passed on to the Giacobetti family, who transformed it with
Leggi di più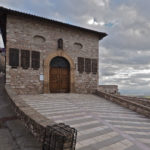 Pilgrim's Hall
Pilgrim's Hall The "Sala del Pellegrino" is a long building with a modest facade built in 1774 for use as a hospice and in 1918 it was turned into a concert hall and now recently into a conference venue. The facade features bronze plates commemorating
Leggi di più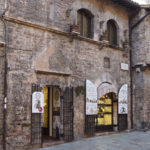 Loggia dei Maestri Comacini
Loggia dei Maestri Comacini This was believed to be the home of the master masons-stonecutter who, for about five centuries after the year 1000, settled in various areas of Umbria to practice masonry. They were from northern Italy and Lugano, in present-day Switzerland. The facade
Leggi di più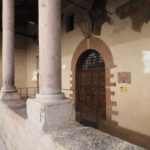 Monte Frumentario
Monte Frumentario This is the old hospital of Assisi and perhaps the oldest in Italy. The Palazzo del Monte Frumentario was built in 1267 outside the first Roman circle of walls, on the side at the bottom of the road that still leads to the
Leggi di più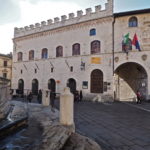 Town Hall of Assisi
Town Hall of Assisi The building was taller than it is now, as during the renovation works in 1926 it was lowered by one floor and the design of the windows was opened. The building dates back to 1338, when the municipality purchased some houses
Leggi di più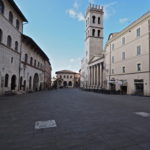 Palazzo del Capitano del Popolo
Palazzo del Capitano del Popolo The corner building on the side at the top of the square is the Palazzo del Capitano del Popolo. In 1275, the Municipality purchased some houses next to the Torre del Popolo to build a new site for the Captain's
Leggi di più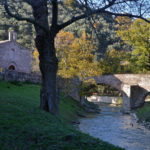 Il ponte dei Galli
Il Ponte dei Galli The bridge was documented in 1160 and 1193 in a deed of sale to the monastery of San Benedetto for a mill iuxta pontem Gallis. The current bridge is the result of renovation dating back to 1356-1357 that joined Assisi to
Leggi di più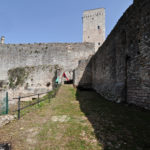 Rocca Minore or Ricchicciola
Rocca Minore or Ricchicciola It stands on the hill to the right of the Rocca Maggiore and the two were once connected by walkable walls. The Cassero di Sant'Antonio, commonly known as Rocchicciola, is a fortress built in 1367 by cardinal Gil de Albornoz to
Leggi di più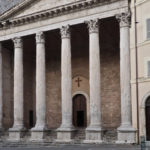 Temple of Minerva
Temple of Minerva Erected by order of brothers Gneo Cesio Tirone and Tito Cesio Prisco in the years immediately after the war with Perugia (40 BC), fought between Lucius Antonius and Octavian, who became emperor under the name of Augustus I. In the Middle Ages,
Leggi di più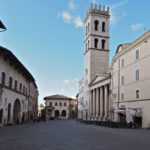 Torre del Popolo
Torre del Popolo The extremely tall building (47 m) of the Torre del Popolo stands next to the Temple of Minerva. It was built for the judiciary of the Captain of the People, documented in Assisi in 1267. Part of the building was completed in
Leggi di più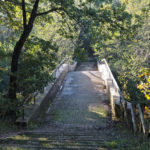 Il Bosco di San Francesco (ST. Francis' Wood)
Il Bosco di San Francesco (ST. Francis' Wood) These are about 60 hectares where Italian environmental fund FAI undertook a large-scale landscape restoration project that involved restoring the old network of medieval bridges on the Tescio stream, reclaiming the wood-like vegetation of the fields and
Leggi di più